Guardian recently shared exciting news about partnering with American Network of Community Options and Resources (ANCOR), a national nonprofit trade association representing more than 1,600 private community providers who together serve over 1 million individuals with intellectual and developmental disabilities. Read the announcement below: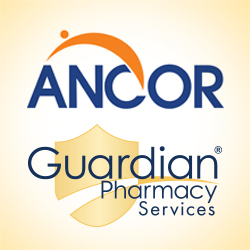 ALEXANDRIA, VA – ANCOR is pleased to announce Guardian Pharmacy Services as the association's newest Gold Partner. Guardian Pharmacy is the nation's third-largest long-term care pharmacy company in the United States.
Founded in 2004, Guardian has 38 different pharmacy locations that allow pharmacy owners the local autonomy to serve the unique needs of people with disabilities. Guardian specializes in providing exceptional client services for individuals with I/DD in ICF communities, Home and Community Based waiver programs, and Behavioral Health Clinics.
"We are pleased to add Guardian Pharmacy Services to our outstandng group of partners," said ANCOR CEO Barbara Merrill. "Our aim is to always provide a diverse array of partners that understand our space, and Guardian Pharmacy Service definitely fits this bill perfectly. With their long history and specialized work with providers and people with disabilities, Guardian Pharmacy Services has what it takes to meet the specific needs of our field at affordable prices."
"We are excited to partner with ANCOR to provide best-in-class pharmacy services to its members," said Guardian Pharmacy Services Vice President of Sales Rich Eakins. "Guardian's unique business model combines local ownership and autonomy with a robust corporate support office. This approach allows services to be tailored to the specific needs of every ANCOR member. Our daily mission is to deliver unmatched response, service, care, and quality medications to our customers."
Guardian Pharmacy Services joins ANCOR's diverse group of nearly two dozen corporate partners. To learn more about these outstanding organizations supporting our dynamic community, visit ancor.org/about-ancor.